Our bedroom is our sanctuary, a perfect pocket of tranquillity where we can fully unwind, relax and get some good Zzzzz's. So not only are the aesthetic of your window coverings vital in the bedroom, but their functionality as well. Depending on what direction your bedroom is facing, sunlight beaming in at 5am or afternoon sun heating up the room can become quite problematic and make sleep challenging.
Working out What You Need
When choosing the best blind for your bedroom, there's a few things worth considering. Here's a few questions we recommend you ask yourself when choosing the right blind or other window dressing for your bedroom:
Do I want any light to come in or full black out during the day?
Do I need complete privacy or is a view out more important?
Do I want a complete blackout for sleep times?
How easy is it to clean the blinds?
Do I need something with good insulation where I live?
Do I need to consider aesthetic and linking the look and feel with other parts of the house?
Best Blinds for the Bedroom
Having a seamless transition from one room to the next can make a home feel calmer and more interconnected, but it can be tough knowing how to tie it all together. What suits the kitchen may not work so well in the bedroom or visa versa due to location of the room, its purpose, plus light and security needs. Our team are expert in guiding the way, so if you feel stuck, give us a call on 1300 077 125. We bring the showroom to you. Below are our top picks for blinds for the bedroom!
Block out Roller blinds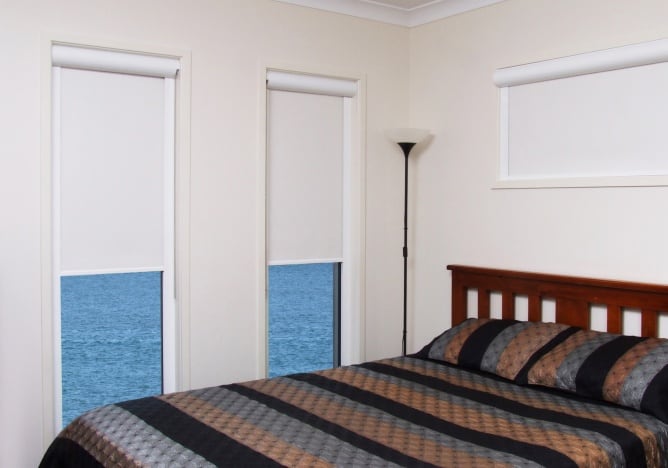 As the name suggests, these blinds completely block out any light from getting into your bedroom. Ideal for shift workers or those sensitive to morning light for sleeping, they operate the same as regular roller blinds, but have a have a casing section at the top of the window and side channels to block out light to the max.
Privacy Venetians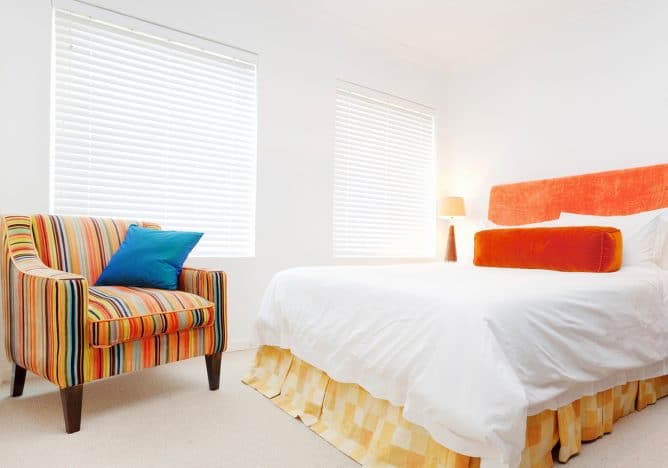 Privacy Venetians do not have holes in the slats, which allows for a closer fit and less light flow when they are closed then regular venetians.
Our privacy venetian blinds or regular venetians can be made from metal plastic or wood and come in a range of styles and decors to suite the décor and aesthetic you prefer.
Roman Blinds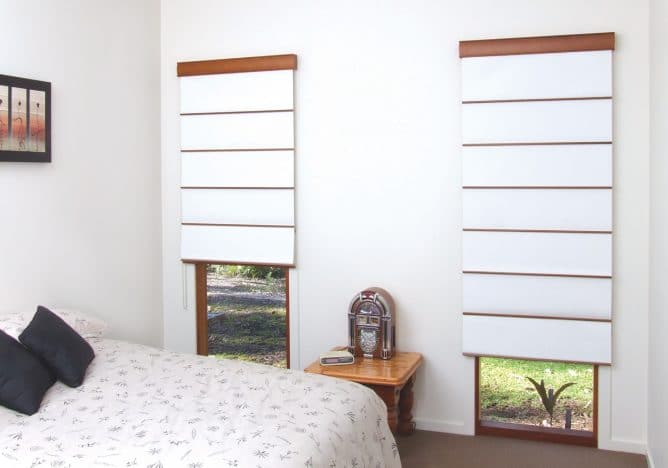 Roman Blinds are a fantastic, modern and elegant option, especially if you get them lined with our block out fabric – perfect for sleeping, privacy and reducing heat/cold. Roman blinds are available in a wide range of fabric choices to suit the style of your home or décor.
Shutters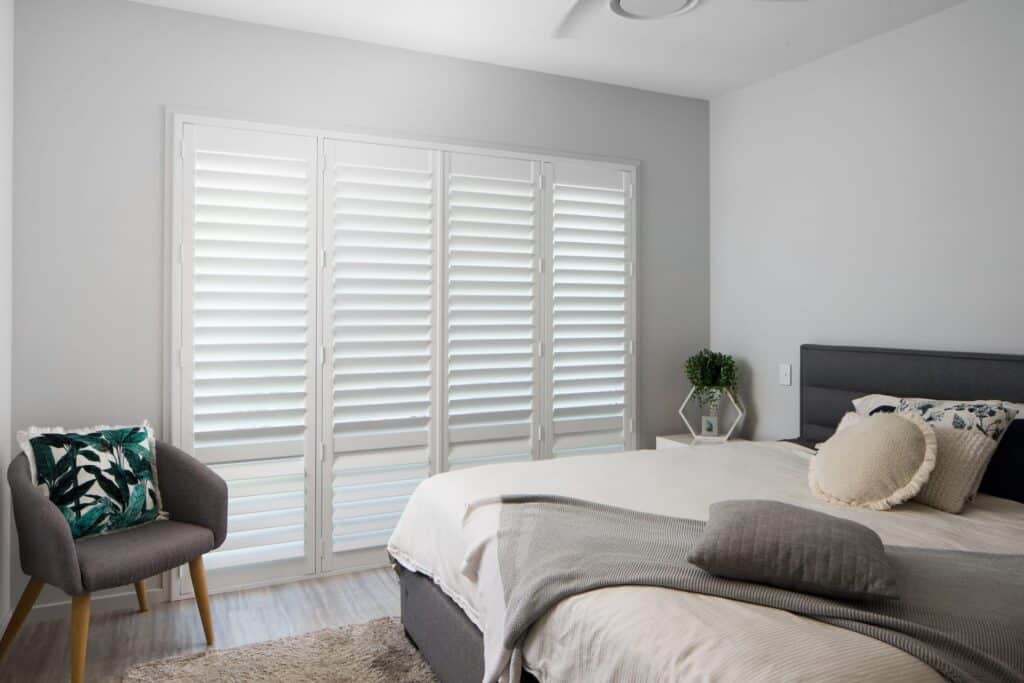 While shutters don't classify as blinds, they're extremely stylish and great for controlling light. They come in a diverse range of colours, several hardy material types and can be perfect for unusual shaped windows. Queensland is a hot and humid state, so it's worthwhile investing in shutters that help control sunlight and heat levels in your bedroom during the day. A simple adjustment of the small-louvred shutters directs sunlight in any way you prefer, helping to regulate the temperature of your bedroom all year round.
Curtains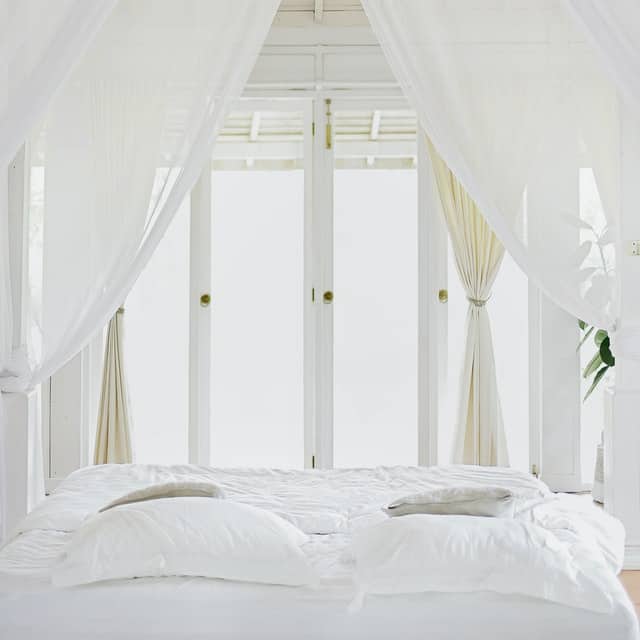 Curtains are a wonderful window covering or you can tailor your way with either minor coverage using sheer curtains or with block out curtains and a sheer curtain overlay for a soft, welcoming look. Block out curtains help block out the heat/cold and light powerfully, while sheer curtains can suit those looking to create a light, bright and airy feeling in the room, using natural light to wake up with.
Custom-made to perfectly fit your windows, our sheer curtains are designed to beautifully filter natural light, allowing you to see out but reducing how much people can see in, while block out curtains turn the day into night. Handy!
We'll Help Turn your Bedroom into a Blissful Hideaway!
Creating the right atmosphere in your bedroom can make a tremendous feeling to your wellbeing and ensure the right mix of privacy, comfort and aesthetic is achieved.
At Factory Direct Shutters and Blinds we have helped thousands of people make the right choice for their home. If you're stuck and unsure which blinds are best for your bedroom or any other room in the house, book an in-home consultation with us today or call us on 1300 077 125 and we'll give you some great guidance based on over 20 years' experience.