Awnings have come a longggg way since the times of rusty, hand-cranked squeaky handles with garish awning designs that did little to enhance home or one's inner-peace. Today, home and patio awnings have evolved significantly offering stylish, discreet protection and aesthetic enhancements to your home. Whether it's a retractable awning, zipscreen or motorised blind, there are a huge range of options, styles and materials to suit your home or outdoor area. Check out our Outdoor Awnings and Blinds Outdoor Awnings and Blinds Buyers Guide and some of the benefits of outdoor awning and blind installations below.
OUTDOOR AWNINGS AND BLINDS BUYERS GUIDE
Outdoor Awnings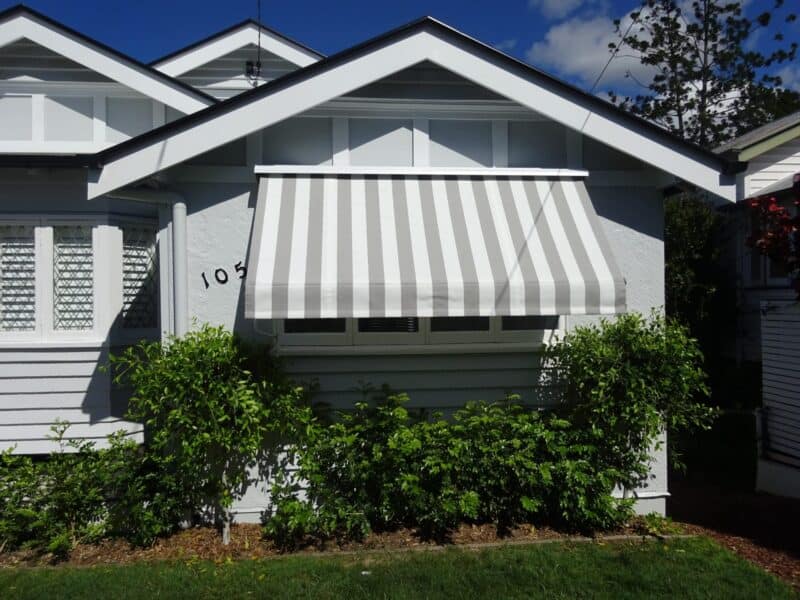 With so many products available to protect your home and increase comfort, the options and their benefits can be overwhelming, so we've broken it down for you in our Outdoor Awnings and Blinds Buyers Guide. External awnings and outdoor blinds are designed to protect you and your home from our harsh UV rays, wind and debris during rough weather, while also adding a touch of style, privacy and security to your home. We offer a broad range of external shade and weather control solutions in a variety of styles and materials designed to suit almost any space and provide year-round protection.
Louvre Awnings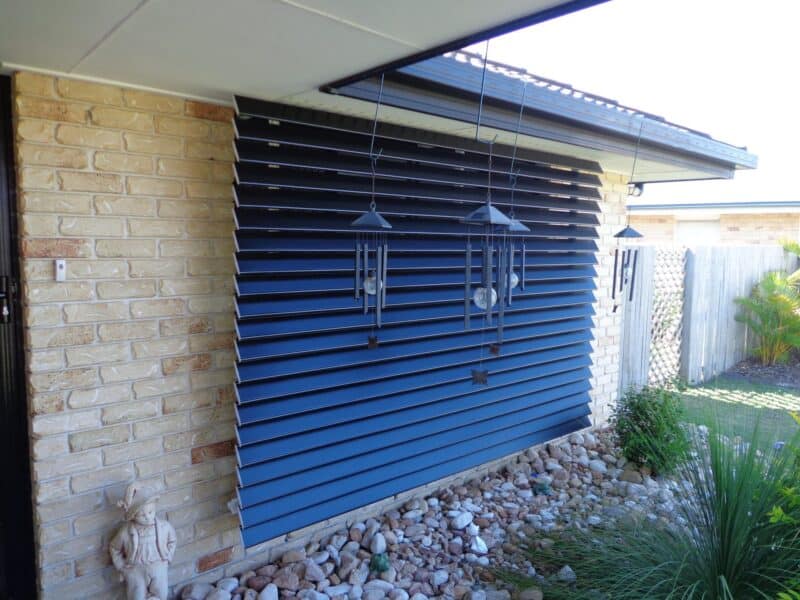 Our Paddington Aluminium Louvre Awnings range offers privacy and airflow without losing views in one efficient  installation. This style of awning also deflects up to 90% of the heat normally transmitted through a window, making it a gamechanger for improving energy costs and comfort at home.
Available in a range of standard or custom powder-coated colours, Paddington Aluminium Louvre Awnings provide a stylish, modern finish to your home. And they come with a five-year warranty.
Outdoor Blinds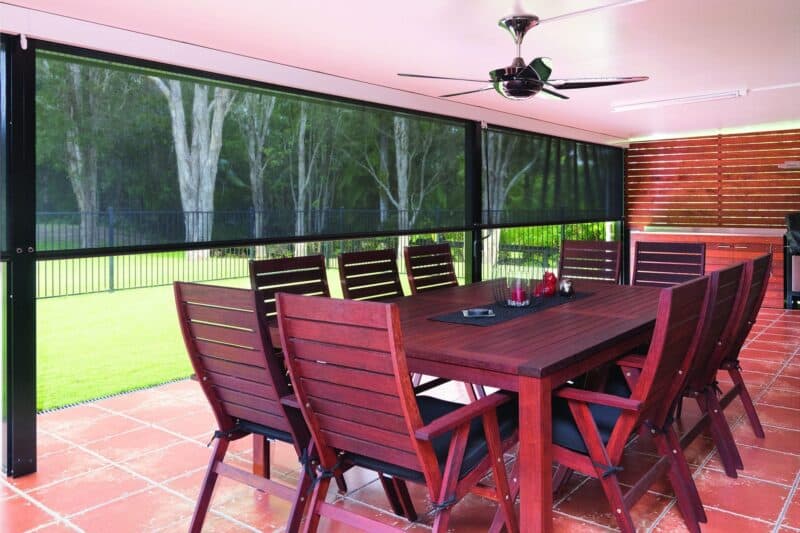 Outdoor Balcony Blinds provide weather protection and privacy. They are ideal for enclosing pergolas, verandas, outdoor living areas and restaurants. Our extensive range of Balcony Blinds is available in a variety of fabrics, from clear PVC and sunscreen blinds to acrylic canvas. Our range includes:
Cord and Pulley Blinds
Café Blinds
Multi Stop Channel
Spring Roll-Up Blinds
Straight Drop Blinds
Heavy Duty Side Channel
Wire-Guide Blinds
Zipscreens and Zipscreen 'Extreme' Blinds

Zipscreens and fully motorised Zipscreen Extreme blinds are sleek, modern, and highly effective at providing protection from the sun and increasing privacy. They can also be fully motorised. There are ample fabric options with a range of shade-cloth colours, blockout screens for complete privacy, mesh or industrial-strength PVC that enables a completely clear outlook.
 Privacy Screens

Modern and sleek, our privacy screens and gates can and add value to your home or office while enhancing its visual appeal.
Our fixed aluminium options are ideally used as fencing and privacy screening, gate features or presentation walls. Privacy screens and gates are increasingly used as features or highlights in modern architecture too.
The biggest advantage of aluminium privacy screens compared with timber privacy screens is their weather resistance. They will stand up well to the elements and not splinter, flake, peel, corrode, discolour or warp like timber does.
Our flat privacy screens come with a choice of 10mm or 20mm spacing depending on the level of privacy required. And they are available in flat or louvred styles with 65mm elliptical slats.
Roller Shutters

For exceptional insulation, security, and complete light blockout, you can't beat roller shutters. Our Australian-made Roller Shutters provide huge advantages for Queensland's often harsh and hot climate. Our security shutters design and manufactured with a double-walled cavity and enhanced strengthening processes. This ensures they are as strong as possible to protect you and your home or office. Choose between our FlatSlat AR405 product or our Ultrashield Security Shutter. Learn more.
Motorised Awnings, Shutters and Blinds
If you have large, hard-to-reach windows up high motorised awnings, shutters and blinds are a perfect solution to make your home as comfortable, private and protected as possible. Motorised options allow you to control adjustments to airflow, sunlight and heat with the touch of a button or even via smart sensors which respond to changing weather and voice activation..
At Factory Direct, we stock the Automate suite of products, which includes motors, controllers, sensors and smart home integration. Automate is a part of Rollease Acmeda, which combines cutting-edge technology with stunning design to create a variety of internal and external motorised shade solutions.
What are The Benefits of Outdoor Awnings and Blinds?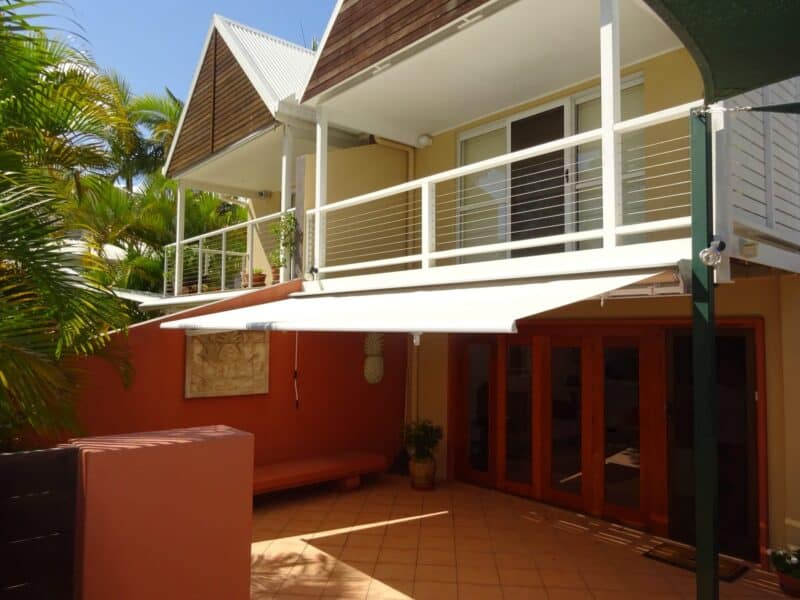 As we mentioned in our Buyers Guide, external awnings and outdoor blinds are designed to protect you and your home from our the extremes of Aussie weather, while also adding a touch of style, privacy and security to your home or office. Below we've shared some of the benefits of installing outdoor awnings and blinds.
Need help choosing what's best for your home or office?
Styles, Materials and Functionality to Suit your Needs
Thinking about adding an outdoor living space to your home? A retractable awning is a perfect way to expand your living space and increase the value of your home the hassle of major renovations. These days there are a wonderful range of materials, styles and automation options to suit your home. Your outdoor awning will be custom designed and made to order.
Reduce Your Power Bill, Increase Your Comfort 
Who doesn't want to save money on their energy costs?! A strategically installed awning or blind helps save money and reduces your carbon footprint. Sometimes referred to as the original air conditioner, a window awning can lower your energy costs significantly while increasing your comfort.
Increased Sun Protection Outside
Installing a retractable awning over your deck or patio provides valuable shade and protects you significantly from the sun's harmful UV rays. Reducing direct sunlight with an awning can decrease the temperature on your patio or outdoor area in a big way, which helps to protect your health while making the outdoors even more enjoyable for everyone, even your pets!
Prevents Harmful UV Rays From Coming Indoors
A retractable awning blocks out the sun's heat and harmful UV rays, cooling it more efficiently than blinds or drapes alone. A window awning also reduces glare and prevents fading carpets, furnishings, flooring and other décor items.
Low Maintenance and Easy Care
Awnings from Factory Direct are built to combine the highest level of design and performance. Made from the most robust, quality fabrics available, our awnings are water repellent and mildew resistant. Cleaning is as simple as brushing off loose dirt periodically, and using a soft brush and soapy water to clean from time to time ensuring soap residue is fully removed.
With so many benefits and options to make your home and outdoor areas feel great while offering protection, now's the best time to get your outdoor awning or blind designed and installed.
Get a quote on a new outdoor awning or blind today.
Contact our team for an in-home consultation where we bring the showroom to you.