The vital role window treatments play in the success of interior design has been underrated, particularly during the white-white-white minimalist style which encouraged people avoid giving any consideration to window dressing at all. But window treatments can be the clincher in creating the soft, luxurious, warm, vibrant, or cool atmosphere your home deserves. Whether it shutters or blinds, awnings or curtains, window treatments deserve a place at the table of interior design. We explore some of the indoor blind trends and home design trends for 2022 you could consider when sprucing up your place.
Indoor Blind Trends
Let's kick off with window blind trends. Window dressing trends move much more slowly than changes in home designs but there have been some subtle changes in the way we like to protect and dress our windows and doors. Woven wood blinds and roman blinds will continue to be popular in 2022, especially among people who prefer aesthetics over strict functionality (… which maybe not so great in hot Queensland folks!) White linen fabrics are starting to increase in popularity for a timeless minimalist look that goes with almost everything too.
In years gone by woven wood with thicker pieces of bamboo which made a visual statement  were all the rage, but we've noticed a shift to smaller weave materials that offer a more delicate, upscaled look. Roman blinds, hessian looking fabrics and beige linen continue to be popular.
Pleated Draperies Are Back… Who Woulda Thought?!
In alignment with a tendency toward the traditional and 70s/80s throwbacks, we've seen a surge in pleated curtain draperies being installed. Nothing says cosy cottage or traditional farmhouse like loads of layered window treatments and classic pleats, especially when you choose a heavy brocade fabric. Great for keeping the heat out too!
TIP: To create a 70s vibe for your windows, try bamboo style blinds or wall-to-wall sheer curtains.
Outdoor Spaces as an Extension of Indoor Living
After spending more time at home during the Covid pandemic, many people invested in making their outdoor spaces more usable AND used their outdoor spaces like an extension of an indoor living room. Whether it was installing a pool, adding outdoor dining for safer entertaining, or simply placing a small table and two chairs on the balcony, we all needed a place to escape and recharge, even when we couldn't leave the house.
Colour is Making a Comeback
A few years ago everything was a whitewash with minimalist designs using white walls and neutral furnishings in ultra-soft palettes. Today colour and pattern are taking over and giving Mrs White the flick. In 2022, we also expect to see a shift from deep moody tones to cheerful bright tones. Maybe it's reflecting the emerging from the Covid Caves into the light of less hard times?! Playful colour choices for walls, cabinetry, and furnishings will allow us to embrace a feeling of joy and effervescence in our homes.
… And Green is the GREATEST!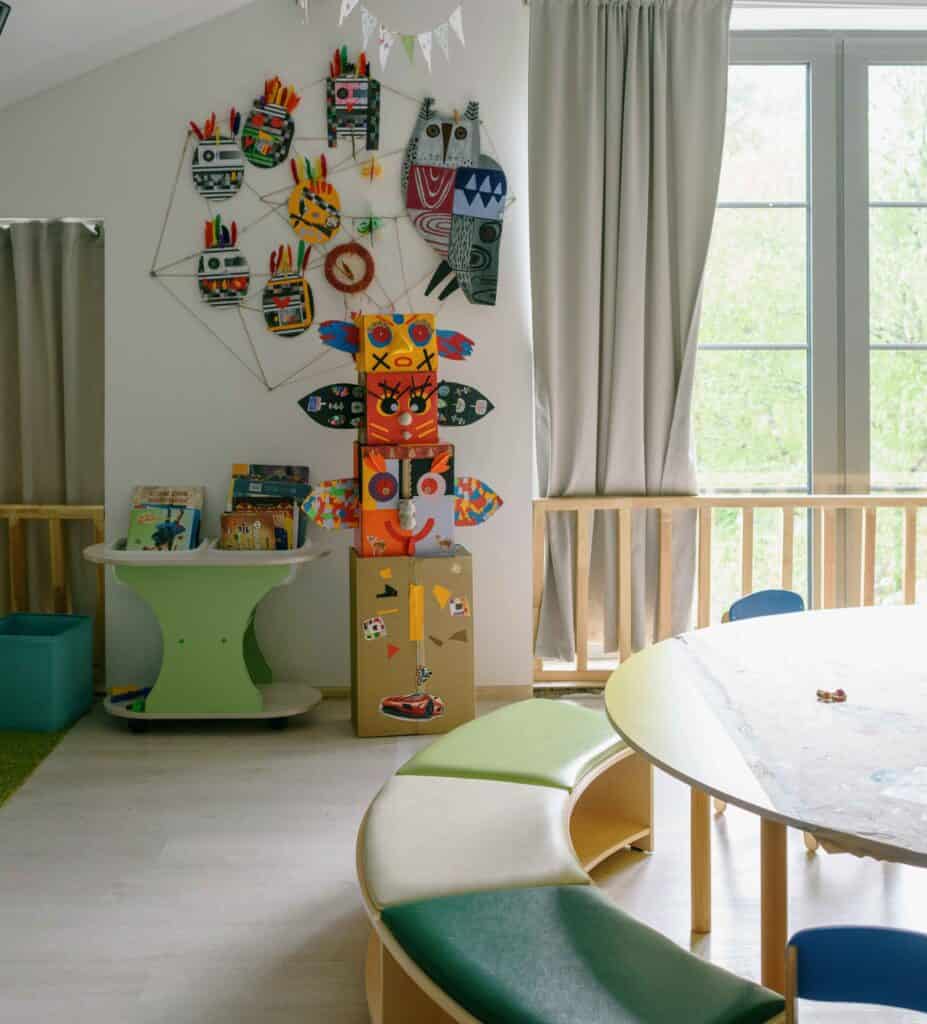 From Sage to Forest to Emerald, greens are the IN colour of the times. For many interior designers green works perfectly as a neutral tone and people are bringing it into their homes for kitchen cabinets, bathroom tile, upholstered furniture, and in the form of plants.
Matchy-Matchy-Matchy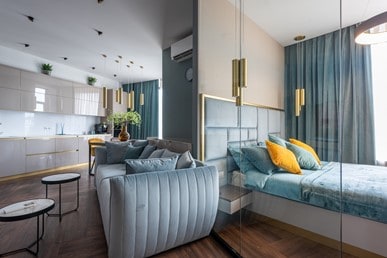 There's been an increase in matchy-matchy window treatments, which also blend with painted walls and trims and decor. Think green, different shade of green and some other aspect of green and you get the picture…
You can get the look with roman blinds or other in a matching fabric or by using a wall of curtains that add some textural interest to a solid colour room.
Second-hand (Still) Rocks!
Over the past few years there's been a surge of interior design enthusiasts turning to upcycling, repurposing, op-shopping and DIY and as a way to save money in the face of employment challenges during Covid (or even to update rooms without leaving the house!) With today's supply chain challenges still leading to delays for furniture deliveries, and decreased availability of paint and building materials, buying second-hand is a necessity and a big design win.
Let's Do the Time Warp Again
n addition to injecting some 80s nostalgia in the preceding couple of years, people are also expected to give their homes full-on time warp treatments inspired by the 1970s. Look out for orange, brown and yellow galore and a surge in shag rugs with psychedelic prints. The ever-popular sunken living rooms and built-in seating are also having a revival so keep an eye out for design options there.
Ready to Get Your On-Trend Blinds Sorted?
A perfect window treatment should fit with the peculiarities of the room and update the interior design rather than spoiling the picture. Therefore, we encourage you to let us help you work out the best indoor blind style, colours, fabrics, and designs your home that will keep you up to date in 2022. We promise to be creative and inspiring.
Book an in-home consultation today for a free measure and quote or call us on 1300 077 125 with any questions. With more than 20 years' experience, we bring the showroom to you and make it super easy to bring your 2022 design aspirations to life!