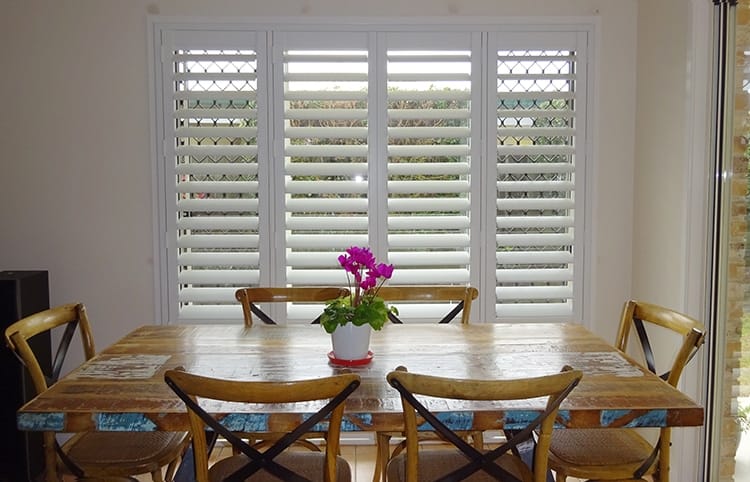 A cheap price may be tempting for bargain hunters, but it's important to know what the true cost of saving a few dollars is - especially when it comes to buying PVC shutters. Sure, you know the spiel about low-grade products not having the same look or feel as their quality counterparts, and certainly not lasting as long. But did you know that buying cheap PVC shutters can also be bad for your health?
PVC shutters are a fantastic and entirely safe addition to the home - when you buy high quality, toxic free ones. However, low quality, cheap PVC shutters are made from subpar materials can release formaldehyde, a carcinogenic, when they get hot. That means every time the sun hits your windows, you're at risk of breathing in a toxin known to cause asthma and a whole host of other respiratory problems.
If that's not enough of a warning, common tricks of cheap manufacturers include creating hollow shutters and not treating them with UV stabilisers, leaving you with warped and/or yellowed window dressings. Not attractive or acceptable!
To make sure you don't get left with health-damaging (and aesthetically displeasing) PVC shutters, we've put together an essential buying guide.
Toxic-free certification
As we've pointed out, cheap PVC shutters can emit some pretty nasty chemicals. For that reason, it's important to only buy from manufacturers who have had their products tested for these toxins, and can provide a certificate to prove it.
Product warranty
When a manufacturer or supplier has nothing to hide, they'll be more than happy to include a product and components warranty with their PVC shutters. Don't settle for anything less.
Look & feel
An expert isn't always on hand during the shopping experience, but that doesn't mean you still can't run a few quick tests by yourself. Quality PVC shutters have a certain heaviness to them, with aluminium being the #1 choice for the blade inserts. They certainly don't sound hollow when you tap them.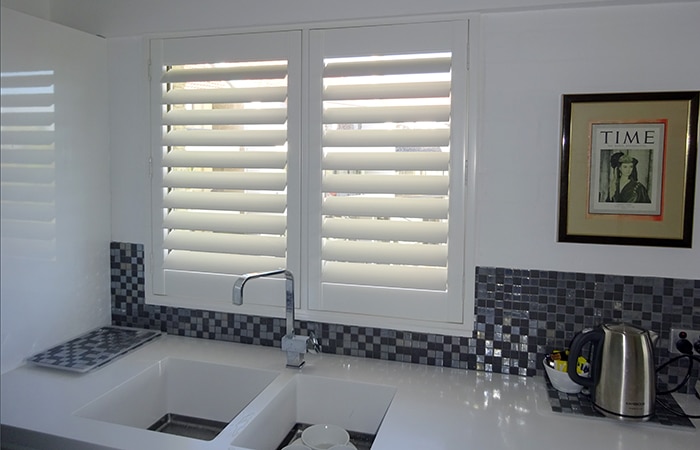 Core strength
As already mentioned, low-quality PVC shutter makers try to get away with designing products with hollow centres. You want to look for shutters with strong, aluminium cores, which won't bend or warp even when the harshest summer sun is belting down.
Quality finishing
The best PVC shutters available have a high quality finish, designed to endure throughout the many years you want to enjoy your home's well-dressed windows. Be sure to ask about UV stabiliser paint as well - this makes a big difference to how well your shutters can take the heat - and the warranty on the paint finish.
Strong connections
Many manufacturers design their PVC shutters by screwing the stile and rail together. This works, but is nowhere near as strong as a mortise and tenon joint. If you want to make sure your shutters have what it takes to bear the toil of everyday use, look for those strong mortise and tenon joints; screwing panels together weakens the stile and allows panels to drop and over time, cracks in the stiles will appear.
Now that you're armed with this insider industry-knowledge, congratulations! You're ready to start the exciting process of shopping for your brand new PVC shutters. We hope that with a little know-how from the experts, you'll be better prepared to make the best value and quality choice for you and your family.
Read our Essential Guide to Buying Shutters
All Factory Direct Shutters, Awnings and Blinds PVC Shutters are certified non-toxic and provide an economical, durable and stylish window and door covering for your home. Our PVC shutters have a quality PVC extrusion with an aluminium insert in every blade to ensure they do not sag, are available in a wide range of colours and blade widths, and carry warranties on the product themselves, as well as the hardware and components.
PVC shutters are the #1 most popular choice for shutters in Australia for good reason - they bring with them a host of benefits when a quality product is chosen. They're durable, low-maintenance, they're perfect for use in high moisture or humidity areas such as bathrooms and kitchens, and are a cost-effective choice for achieving the plantation shutters look at an affordable price in your home.
Lookout for what we've discussed from a reputable company such as Factory Direct Shutters, Awnings & Blinds and you'll be on your way to having many happy years of use with your stylish new PVC shutters.
Talk to us today about the benefits of high quality PVC shutters or call for an obligation free measure and quote in Brisbane, the Gold Coast, Northern NSW and the Sunshine Coast on 1300 077 125.