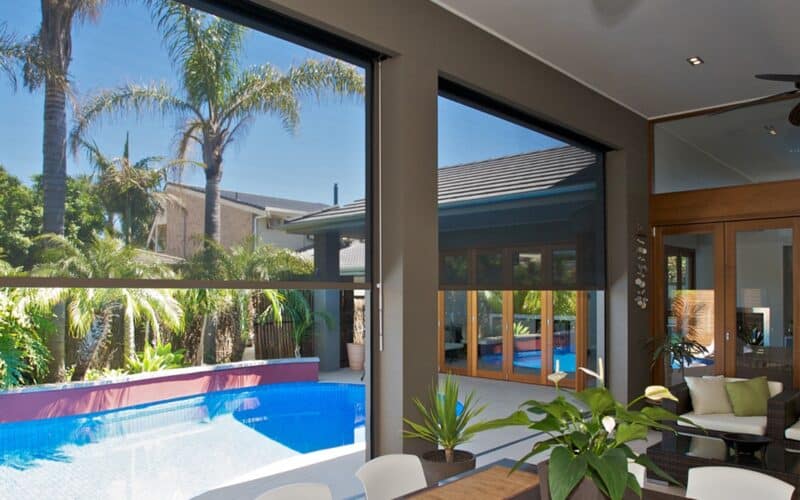 Outdoor blinds & awnings can make a huge impact on the functionality and visual appeal of your home, but with a myriad of styles and fabrics to choose from, the process of picking the right one for your home or building can be daunting.
Whether you've just begun considering your options or you're already knee-deep in brochures, our top 5 tips from the experts will help take the stress out of the purchasing process.
Putting your needs first
Your first step should be to define what your actual needs and wants are. Each backyard or outdoor space (and their intended use) is entirely unique, so there's no cookie cutter solution to fit everyone. Begin by figuring out the answers to some basic questions, such as:
- What purpose do you want your outdoor blinds to fulfill?
- Do you want to protect your home from the harsh sun, or provide greater wind and rain coverage?
- Is the aim to create extra space outside for entertaining?
- What's the general climate where you live, and is your home subjected to extreme weather conditions that might affect what the best blinds solution is for you?
- What's the orientation of your home or office? Are you trying to shade from gentler morning sun or harsher afternoon sun as is the case during Queensland summers?
- Do you want coverage to be fixed solution, or retractable to provide coverage when and how you choose?
- What kind of operation would you prefer? Rope, wire, channel guided blinds, zip track guided blinds, crank handle or automated?
- Do you require easy operation and child safe options?
Get a grasp on your specific needs and wants as best as possible so that by the time you talk to an expert, you have a solid foundation to work with.
Put in the research
We know, research doesn't exactly sound like a fun way to spend your spare time. However, understanding a bit more about what is available to you and the pros and cons of each option will ensure your first serious shopping session doesn't make your head spin too much.
Of course, this is what the experts are there for too and you should take advantage of the incredible wealth of knowledge the professionals have - their advice and recommendations for options will be invaluable.
We suggest looking at quality suppliers & installers in your local area and finding out the benefits of each style and fabric, longevity and maintenance required for what's recommended in your situation. Then talk to the professionals to understand their recommendations for your ideal situation and usage.
Understand the quality of products you're looking at
There is a huge difference in the quality of materials used in outdoor blinds and awnings. These are products that will face harsh climatic conditions and all that nature can throw at them, so paying to have a high quality product installed now will save you time and money in the long run. No one ever regretted quality and in the case of outdoor blinds and awnings, that couldn't be truer.
Again, look for reputable suppliers and installers in your area like Factory Direct Shutters, Blinds and Awnings, who have been business for an extensive length of time, and have the experience and reputation of stocking and installing high quality products made to last the distance.
The true measure (of your outdoor blinds and awnings)
First, identify how many areas you will need outdoor blinds or awnings for, taking into account windows, door ways and any additional spots around the house you want protection for.
Then you're ready for a visit from your local installer, who should offer you a free measure as well as provide recommendations and a quote. They'll do professional measurements for your space - critical to get the perfect fit - so when you make your choice of outdoor blinds or awnings, you're ready to go.
Don't skimp on installation
There's one area where the industry experts are essential: installation. If you want your outdoor blinds or awnings to be installed correctly, in a way that will look good and continue to look good for a long time, make sure you get the professional tradesmen on the job. Ask questions of your supplier and installer about the expertise of their trades team and references if need be. Quality workmanship during the installation is vital and will extend the longevity of your product.
Don't forget the warranty!
It might not be your first thought, but a warranty on your outdoor blinds or awnings is a must and should be provided and clearly outlined on completion of you job for both the product and the installation of the product. Warranties vary greatly, depending on the quality of product you choose. Even when purchasing high quality products from trusted suppliers, sometimes things can still go wrong. It'll give you a whole lot of peace of mind knowing that in a worst-case type scenario, you're fully covered.
Have more questions about choosing which are the best outdoor blinds & awnings to buy? Don't hesitate to call your local Factory Direct Shutters, Awnings & Blinds team on 1300 077 125 today - we can answer all your question, plus assist you with installing the best product for your situation!