Choosing furnishings or making changes to our home or office environment can be a daunting activity, with so many options, styles, colour treatments, materials and of course agreement needed among the occupants. The choices made are often ultra-important too because the investment is often significant, and you could be stuck with it for decades. When it comes to indoor blinds, there are a massive range of options to choose from, but don't feel overwhelmed, each have their own characteristics and benefits making it easier to work out what will suit your home décor and style best.
Support is at your fingertips
Our experienced team of professional home stylists can also provide a huge amount of support by bringing the showroom to you with loads of colour and indoor blind options. We also provide a swatch system on our website so you can look at colour schemes and lighting treatments from home!
Designed and made-to-measure to meet your style preferences as well as your home and office measurements, our custom-made blinds come with a 5-year product warranty.
The versatility of our indoor blind range continues through to the array of colours, fabrics and materials you have to choose from. At Factory Direct Awnings and Blinds, our range of indoor blinds offer both the highest quality and the most affordable prices.
Where to begin
Factory Direct has a huge range of indoor blinds covered across many styles to suit the sub-tropical conditions of Queensland. Whether its light, sun, heat, airflow, weather control or and privacy elements that affect your home, all of them can be mitigated with the right indoor blind for your needs.
With so many blinds and styling options to choose from, read on to learn more about how we can help you identify the ideal ones for your doors and windows from our growing indoor blinds product range.
Roller Blinds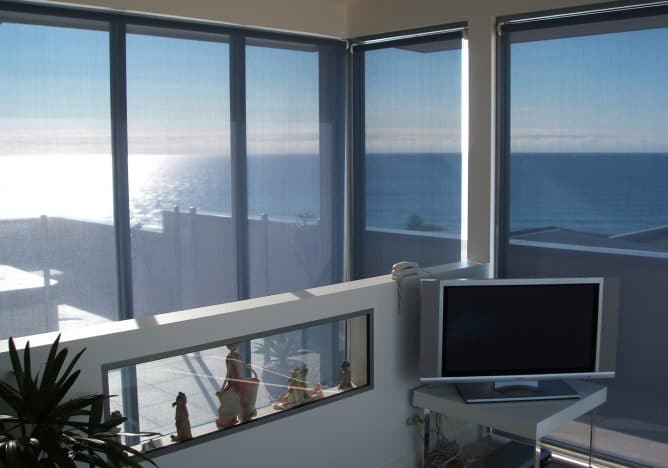 While being incredibly simple and practical in their function, these easy-to-use blinds provide plenty of elegance and style for a range of uses as well. Roller blinds offer a modern and highly functional solution to providing privacy, keeping out light and insulating a room.
Our roller blinds are available in a huge range of plain or patterned fabric options to make the right statement with your décor. We also provide three different opacity levels to achieve the right level of privacy and climate protection for your home or office environment.
All of our roller blinds come standard with a discreet light-weight chain operation or can be fully automated, offering you an added touch of luxury and ease of use.
Panel Glide Blinds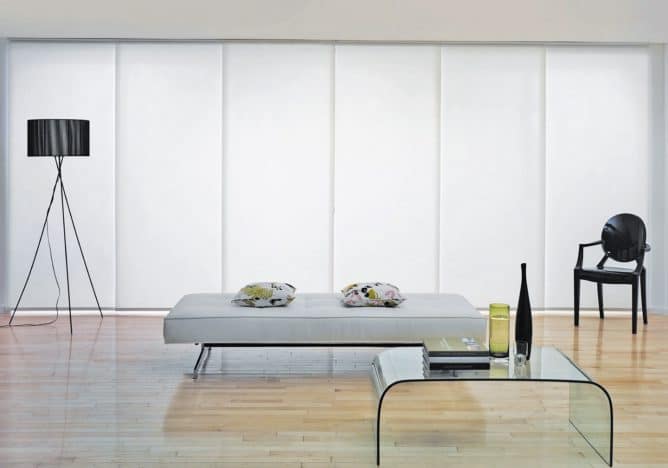 Panel glide blinds are an excellent choice for large windows. Their contemporary versatility make them an excellent and easy-to-operate choice for privacy and light control.
Panel glide blinds offer a chic and easy-to-operate option for light control and privacy. Designed for larger windows or sliding doors, these custom-made blinds add a modern edge, functionality and versatility to any room. They ca even be used to create a room divide and overlap slightly to be configured to open and close in any direction.
Panel glide blinds come in a vast range of fabrics and colours to suit your own style and décor. They are also available in block-out, privacy and sunscreen opacity to give your room the perfect ambience and protection.
Venetian Blinds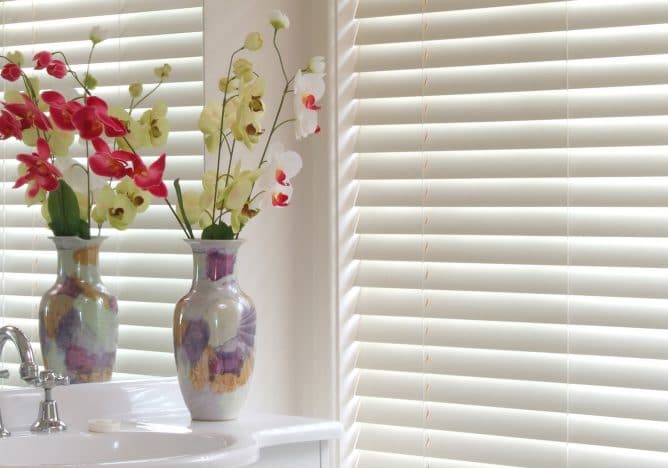 It's easy to see why Venetian Blinds have long been a favoured indoor blind for many households and office space. They provide a lovely sleek look, are great for controlling glare and airflow, and also offer excellent value for money.
Venetian Blinds provide a feeling of elegance and make a timeless and stylish addition to any room, while also being incredibly practical to use. Venetian Blinds are an affordable way to solve your privacy issues or improve the temperature of a space. Whether you need to shield your interiors from our harsh Queensland sun or control the airflow around your home or office, Venetian blinds are one of the best window furnishing solutions to do this.
Venetian blinds are super functional and a clever and affordable choice to enhance your home or office. Choose from our Basswood timber blinds, Polyresin blinds or our ever-popular aluminium Venetian blinds, they all come with a five-year warranty.
Vertical Blinds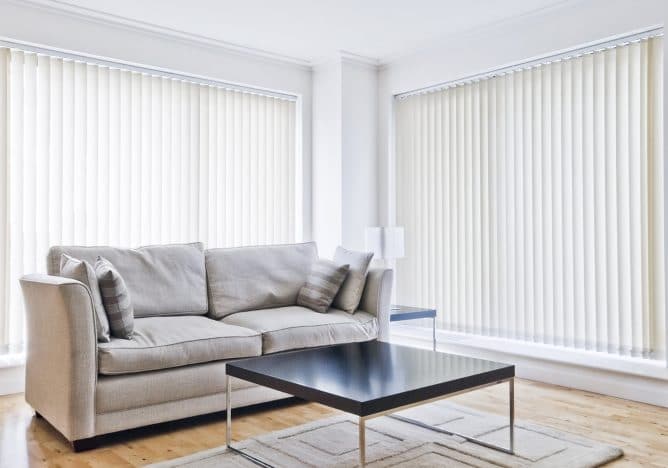 Vertical blinds are both classic and practical, and an ideal option for doorways and large windows. Verticals are a perfect option for doorways and large windows as you can control the amount of light you allow into your space, making them ideal as bock-out vertical blinds or sliding door blinds. You can tilt the blades sideways to completely block out the sun and view, or partially to your liking.
The sideways stacking of your Block-out Vertical Blinds make them a perfect choice for high-traffic situations such as sliding or patio doors, where other blinds may not be suitable. Similarly, they add a feeling of spaciousness and height that many other blinds do not.
Functional, stylish and practical, our Vertical Blinds are custom-made from a range of attractive colours and textures to suit any home or office.
Roman Blinds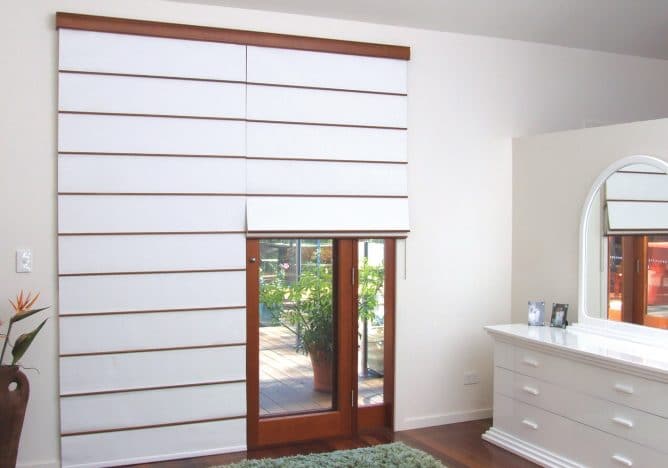 Roman Blinds elegantly unfold inwards creating a flowing effect which is striking in its ability to softly transform a room. Roman blinds definitely add a subtle touch of class with a timeless, classic design and form a luxurious frame for your window and door when stacked.
Roman Blinds are easy to maintain and can provide wonderful insulation for your doors and windows. These fully customisable classic blinds have the advantage of being fully customisable in a range of colours and fabrics to suit your style and type of home or office and work equally well in traditional interiors as they do in contemporary spaces. They also come with a five-year warranty.
Get Creative with Balcony Blinds
Balcony blinds are commonly used outside, however they can also be used inside to create a new space in your home or office, or to add new life to an existing area.
Our extensive range of balcony blinds is available in a variety of fabrics, from clear PVC blinds to acrylic canvas and sunscreen PVC for outdoors.
Need help choosing the right blind for your home or office?
Contact us now for a free measure and quote, or free advice on the right indoor blind for your space. Our experts can bring our mobile show