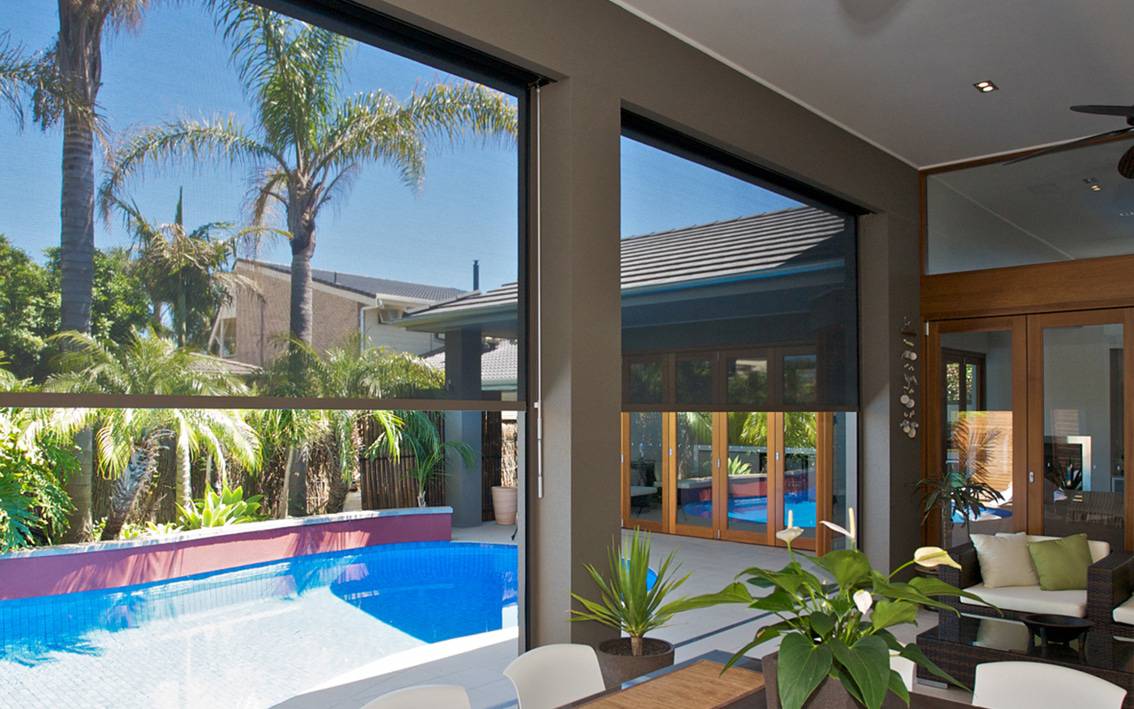 The look, feel, and longevity of your outdoor blinds and awnings is only ever as good as the materials used. That may sound obvious, yet still too many people choose cheap and lower-quality options, not realising that initial costs saved may be negated down the line when they have to replace their prematurely weathered outdoor blinds.
In other words, choosing a product made with the right fabrics and materials is really important. This guide will help you in making that decision, so that you can install awnings & outdoor blinds that not only look fantastic, but will stay looking fantastic for a long time to come.
So Which Fabric Should I Choose For Outdoor Blinds & Awnings?

When finding the right materials for your outdoor blinds, the first thing you should ask is what their purpose is going to be. Different materials serve different functions, for example:
Canvas
Canvas is one of the oldest styles of awning fabrics around. Canvas still has high heat refracting properties, so is perfect for window awnings and anywhere harsh sun is a factor. When it comes to canvas, quality is everything, given the harsh conditions they'll encounter.
Shade Cloth
Shade Cloth is mostly used to protect areas against the sun, but also comes in a range of colours that serve differing roles. Fabrics that are dark coloured tend to absorb heat while reducing the sun's glare, whilst sunlight bounces off lighter colours.
Block Out  Screens
Block Out Screens aren't the subtlest blinds, but they certainly provide a great deal of privacy and protection from harsh conditions outside. If you have want 100% privacy or light blocking, block outs are the way to go.
Mesh
One of Australia's most popular choices! Mesh awnings and outdoor blinds are typically made of PVC, specifically so they never rot or fade. Mesh screens allow you to be protected from the more unpleasant elements of the outdoors, like bugs, harsh sun, and rain, without compromising on being able to see out through the windows.
Available in a range of density and opacity, mesh also allows plenty of fresh air to permeate throughout your outdoor area. Folding arm awnings are generally made from acrylic mesh, for its light weight benefits of being able to be pulled taut and to prevent sagging.
PVC
PVC is perhaps one of the best options in terms of maintaining uninterrupted views of the outside world, and can also reduce a fair amount of glare. It's incredibly important to invest in quality PVC though, as it is with the rest of the fabric options listed here.
Fixed Metal Awnings and Outdoor Louvres 
These are made from powder coated aluminium that can be coloured to match existing home design & infrastructure. High durable, aluminium metal awnings can add a lot of decorative appeal to a home and are a great shelter for over doorway as well as windows, giving you protection from rain as well as as sun. Fixed outdoor aluminium louvres and screens are also a terrific solution, allowing for privacy on busy streets or public facing windows, while still letting in in fresh air.
Head To The Source

After deciding which particular outdoor blinds to install, the question of how to find the best quality materials still remains. Like many products, where the fabric is sourced from makes a huge impact.
At Factory Direct Shutters, for example, we take a lot of pride and have 20 years experience, sourcing top quality materials of the highest quality available anywhere. This includes procuring fabrics from leading companies in Australia and Asia, as well as renowned U.S. brand Phifer. Our extensive research and experience in trade makes all the difference when it comes to the quality of the product we provide to our customers. Quality is something everyone should consider when finding their outdoor blinds' supplier and installer.
Keen On Going Green

It's important to choose materials that will not only have a fantastic impact on the aesthetics of your home, but also on the environment. Take a company like Phifer for example; they focus on using recycled materials, designing energy-saving sun control fabrics, and try to ensure their manufacturing processes have the least negative impact on the environment as possible.
All of this focus on eco-friendly practices not only allows you to reduce your carbon footprint, but also provides insight into the integrity of such a company. If an organisation goes to such great lengths to ensure the environmental sustainability of their products, you can bet that the quality of material they create will be of an equally incredibly high standard.
Talk To The Experts

When it comes to Awnings and Outdoor Blinds, we've got the answer at Factory Direct Shutters, Awnings & Blinds! We know the best materials and styles to suit your home or office situation, and can bring our range of materials and awning styles direct to you to view anywhere in Brisbane, Sunshine Coast, Gold Coast, Northern NSW and surrounding suburbs.
Call us today on 1300 077 125 for a free measure and quote and start beating the Queensland and New South Wales heat and sun today!