What's best for your home or office, shutters or blinds? With so many options available, it can be tough choosing the right solution for your space. It's important to make the right choice too because shutters or blinds are a major investment and not something you're likely want to replace too quickly. The choice between shutters or blinds typically comes down to budget, your preferred style, window shape and lighting and privacy requirements.
We have a broad range of options to choose from and our experienced team can advise on the best options for your home or office areas. As well as interior window shutters like plantation shutters, we offer several styles of blinds such as venetian blinds, vertical blinds, roman blinds and roller blinds. Sometimes the best solution for your home or office can be a combination of both shutters and blinds. Book an in-home consultation with us to learn more; we bring our showroom to you.
Questions to consider when choosing between shutters and blinds
What budget do I have?

How long do I want the shutters or blinds to last?

Which room is the window or door in?

What type of window is it?

How often will the shutters or blinds be used?

What design style am I trying to achieve?
The pros and cons of shutters and blinds
If you have a standard shaped window blinds offer a softer look than shutters. In general (but not always) interior shutters will be more expensive than blinds because of the material they are made from and because a tailor-made product will be more expensive than an off the shelf one. If you have a uniquely shaped window, however, shutters are a great option as they frame rather than hide the window. They also allow a greater degree of privacy than blinds.
Privacy considerations
Particularly in city locations or where properties are close together, privacy is one of the key factors with determining whether a shutter or blind is best. If you have a street facing window or door, shutters could be the best option as they provide permanent privacy while allowing light and breeze through if desired. However, if you are not overlooked, and the windows are not at street level for example, then blinds could be a suitable window covering for you; there is also the advantage that you can have full light when the blinds are up.
Consider the climate
The fabrics of some blinds can become damaged from UV rays or too much moisture and in the Queensland climate, those considerations really matter. If a window or door is in a particularly damp or heavily sun-drenched area, you may need to consider a PVC or a weather-proof shutter.
Beautifying with Plantation Shutters
Plantation shutters are a perfect way to update and improve the aesthetics of your home, both from an outside perspective and from within. They offer a wonderful level of kerb appeal.
Shutters are certainly a major investment and a purchase which requires solid deliberation. they are timeless in their design and finish which means they will go the distance and remain an appealing asset for years to come if you are looking to sell on your home in the future.
Quick Checklist of Frequently Asked Questions
ARE BLINDS BETTER THAN SHUTTERS?
One is not better than the other but offer different strengths and weaknesses. The choice is a personal one based on your style and privacy preferences and layout, aspect and design of your home or office. Shutters tend to give more control on the light entering the room than blinds and offer more flexibility. Blinds can be a good solution for standard sized windows with a lower cost but may not last as long as shutters.
ARE SHUTTERS MORE EXPENSIVE THAN BLINDS?
Yes. Shutters cost more than blinds, and wooden shutters are more expensive than PVC shutters. Shutters are also a more durable product than blinds. With the right care, they can last indefinitely.
DO SHUTTERS COMPLETELY BLOCK OUT THE LIGHT?
Shutters can block the light much better than blinds because they are mounted on a frame fitted into your window frame. However, they do not completely block out the light. A combination of shutters with integrated blackout blinds can fully darken a space.
HOW MUCH DO SHUTTERS COSTS?
Prices vary depending on type and size. It's a great idea to watch out for promotions and sales. Book an in-home consultation with us for a quote and learn more.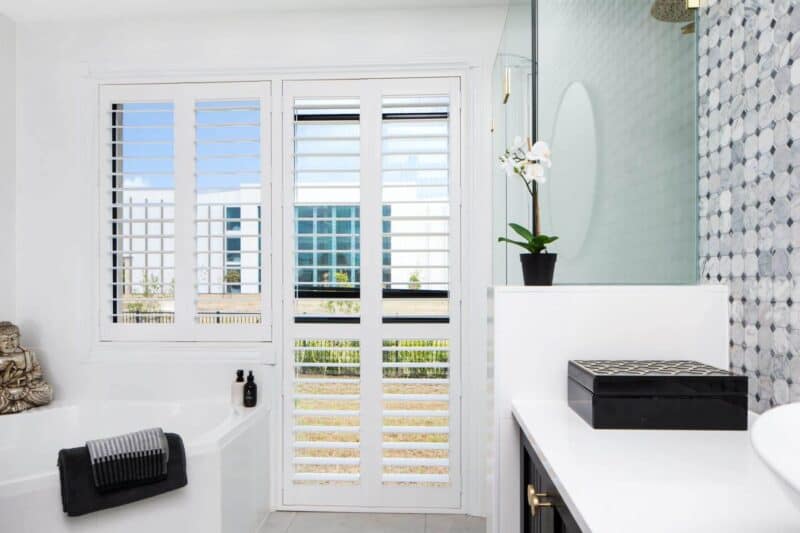 Decisions, decisions…
The choice to install shutters or binds ultimately comes down to personal preference, budget and space needs and there is no right or wrong direction to go – you can even have a mix of the two at your home, creating a beautiful design aesthetic.
The most important thing to keep in mind when choosing your products is ensuring a high-quality product which is installed by an experienced trades person. This is something we guarantee at Factory Direct Shutters, Awnings and Blinds.
Book an in-home consultation with us for our team to bring the showroom to you and learn more. We can then measure and provide a quote to suit your specifications.