Spending more time at home these past two years has seen us redefine our relationships with outdoor living spaces.
We've renewed our appreciation for natural environments and the enjoyment we derive from being outdoors. We've travelled less, and instead explored ways to bring more fun and functionality to our own backyards. We've even moved our workstations outside, at times, to enjoy some sunshine in between Zoom calls.
As spring heralds a new season of twilight barbeques, alfresco dining, and leisurely mornings in the garden, now is a perfect time to freshen up those outdoor living spaces to make the most of the upcoming warmer months. Here are some ideas to get you started.
Secure Your Private Oasis with Stylish Screens and Gates
Modern gates and privacy screens help to secure your backyard while framing your outdoor living spaces in a stylish and practical way. Often used as an architectural feature in their own right, good-quality gates and privacy screens double as a visually effective way to enhance and add value to your home.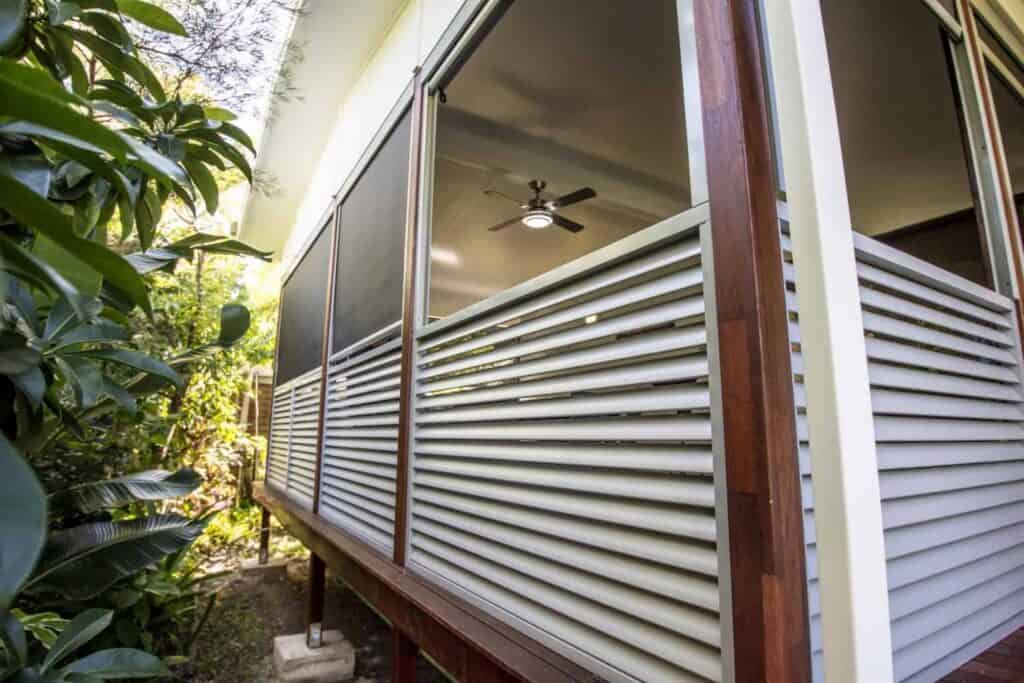 Our range of aluminium screens is highly durable, weather resistant, and can be customised to the colour scheme of your choice. Unlike timber, these screens will not warp or discolour with age, and the slat spacing can be adjusted to provide the level of privacy you require. Contact our experienced team for help selecting the best gates and privacy screens for your outdoor oasis.
Transform Your Backyard into a Functional Food Garden
Spring is the season of new life, and an ideal time to get your garden sorted and ready for summer. Why not grow your own fresh, organic produce in a backyard vegetable patch? If you have a smaller space to work with, you might consider focusing on herbs, or vertical planting arrangement.
Vertical gardens, which comprise a series of vertically connected pots, are a great option for greening those smaller outdoor spaces, or for creating eye-catching feature walls.
Fruit trees can be as decorative as they are functional. If you love the idea of fruit trees but don't have a large space to work with, consider planting them in large pots or grow bags. Just be sure to choose trees of smaller or dwarf varieties so they won't grow too big.
Beyond Barbeques: Upscale Your Outdoor Cooking Spaces
The backyard barbeque is a long-standing Australian cooking tradition that reflects both our culture and our climate. While the classic charcoal or gas-powered Weber remains a mainstay of many alfresco entertainment spaces, outdoor cooking options are becoming more varied and sophisticated.
Depending on your budget and space available, you might consider investing in a free-standing pizza oven, a sink and some bench space, a bar, or even a fully functional outdoor kitchen, complete with oven, cabinetry, and a fridge.
Stylish Seating for Comfortable Outdoor Living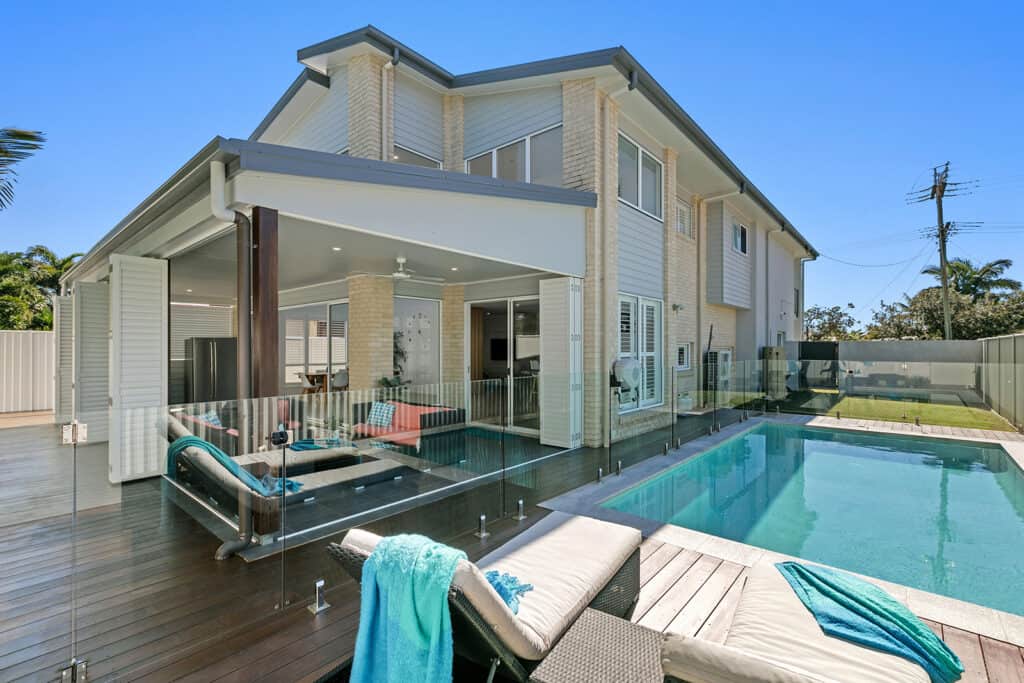 Outdoor furniture has come a long way in recent years. Cane and timber-look furniture helps to create a relaxed, natural, lived-in feel, while plush resort-style couches and chairs are a cosy addition to your outdoor living spaces. Hanging egg chairs are a stylish feature as well as being a fun way to relax, ideal for patios or alfresco living areas.
Brighten Your Backyard with Outdoor Lighting
Lighting your outdoor living spaces, these days, is more about aesthetics than practicality. From decorative solar lights framing pathways and garden beds to strings of coloured bulbs strewn amongst the foliage of trees, outdoor lighting is a simple and relatively inexpensive way to make your backyard more inviting after dark.
Outdoor Offices That'll Look Good on Zoom
More of us are working from home than ever before, and we want to be comfortable while doing so. Outdoor living spaces can double as alfresco workstations, provided there's supportive seating and WiFi available. Investing in a WiFi extender can help ensure your Zoom calls won't drop out while you're lounging poolside.
Taking the outdoor office trend a step further, you might even consider converting a garden shed or granny flat to a fully self-contained backyard office. This provides a degree of separation from the distractions of home, without the boring daily commute. And there's nothing stopping you from taking your laptop outside for some sunshine in between calls.
Create Shade for Day-Round Functionality of Your Outdoor Spaces
A strategically placed awning can provide the perfect amount shade for your alfresco living spaces. Folding arm awnings are a great option for covering large areas, such as pools, patios and outdoor entertainment zones. Their retractable fabric roof system gives you the flexibility to block or permit sunlight as required.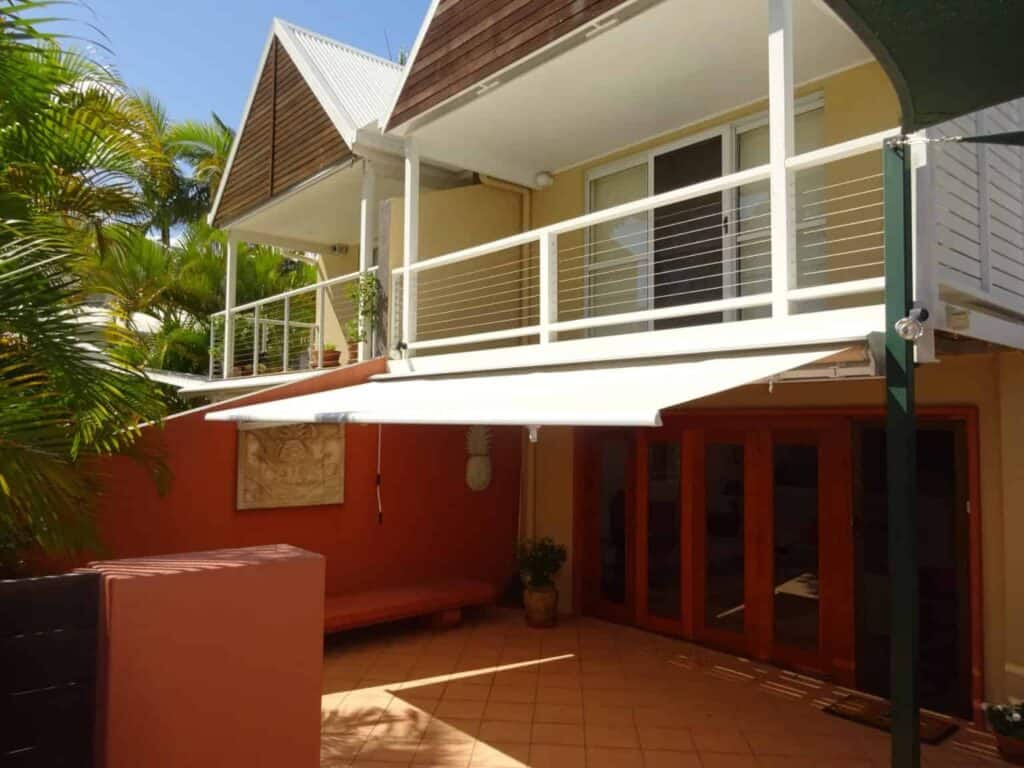 Our folding arm awnings all come with a five-year warranty and professional installation. Motorised options are available for added convenience. To learn more, call us today on 1300 077 125 or book your complimentary in-home consultation online.